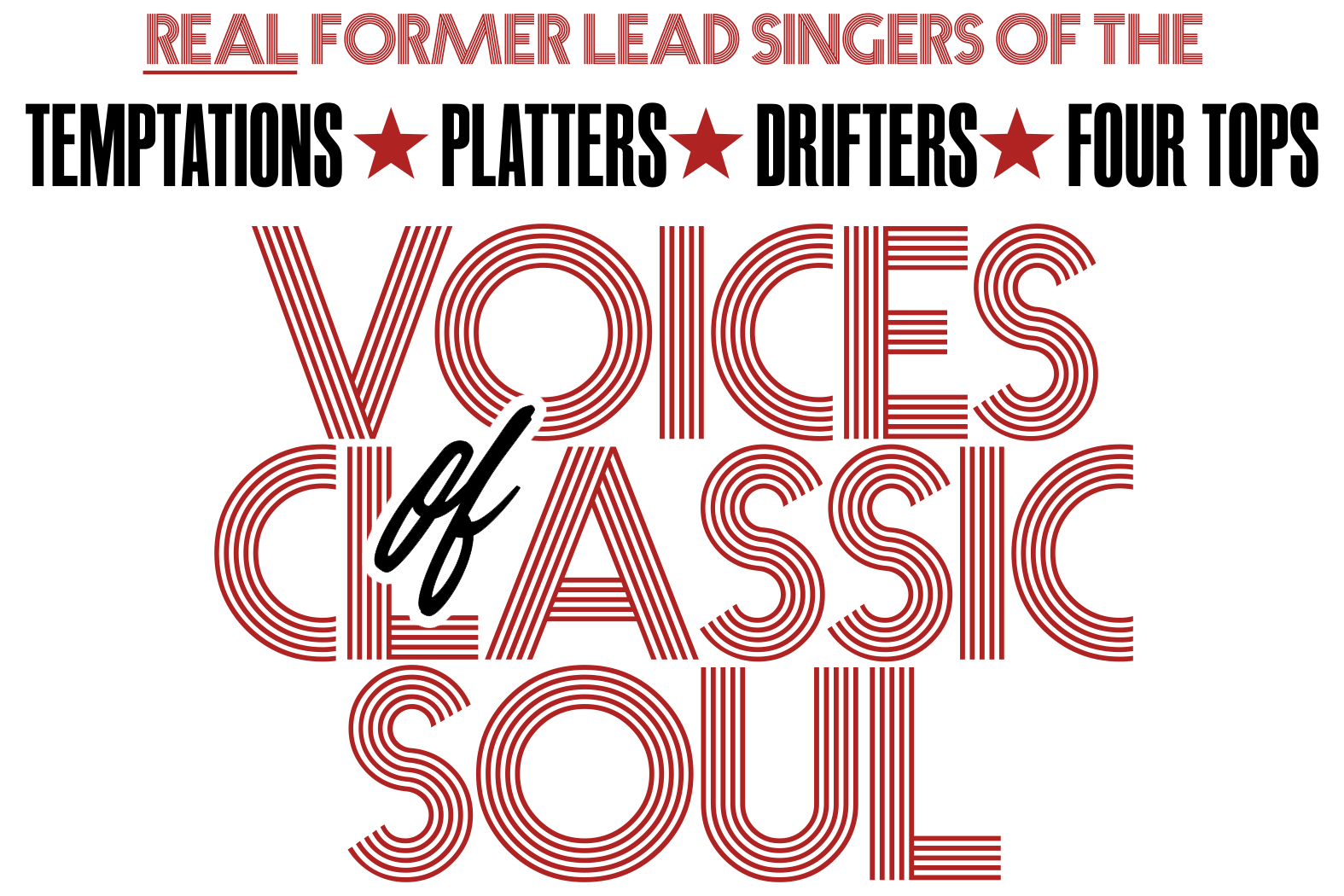 Attending a performance by Voices Of Classic Soul is like getting a master class on Motown, Musical Magic Moments, and much more!
Voices Of Classic Soul members have been around the world and back again as the lead singers of some of the most legendary vocal groups of all time.
Every Voices Of Classic Soul performance features a trio of top vocalists selected from an "A" list roster of former lead singers of the Temptations, Platters, Forever Motown, Main Ingredient, Four Tops, Drifters, and more. It's truly the best of the best: a top-shelf experience.
Voices Of Classic Soul concert attendees are treated to incredible showmanship, classic dance moves, and some of the biggest hits of all time, including "My Girl," "Ain't No Woman Like The One I Got," "Get Ready," "The Great Pretender," "Baby I Need Your Loving," "Only You," "Ain't Too Proud To Beg," "Smoke Gets In Your Eyes," "I Can't Help Myself (Sugar Pie, Honey Bunch)," "Under The Boardwalk," "It's The Same Old Song," "On Broadway,"  "Everybody Plays The Fool," "Reach Out I'll Be There," "Save The Last Dance For Me," "Can't Get Next To You" and many, many more.
Voices Of Classic Soul members have shared the stage and the studio with musical icons, including Aretha Franklin, Barbara Streisand, Smokey Robinson, Ben E. King, Stevie Wonder, Bill Medley of the Righteous Brothers, and Ashford and Simpson. Members have performed at the Superbowl halftime show, Radio City Music Hall, Royal Albert Hall, the Las Vegas Strip, Carnegie Hall, the Atlantic City boardwalk, the Hollywood Bowl, and hundreds more legendary venues and far-flung cities around the globe.
Voices Of Classic Soul's former groups have sold over 100 million records, scoring dozens of number-one hits that audiences of all ages know by heart. Now, when they perform the classics live, Voices Of Classic Soul supplies a non-stop musical medley of timeless tunes everyone in the audience can sing and dance along with. Voices of Classic Soul shows provide a concert experience where you'll know and love every song.
So, when Voices of Classic Soul brings their rich blend of number-one hits, classic dance moves, and undeniable charisma to delighted audiences in your town, make sure you're there to soak in the soundtrack of our lives. You'll leave smiling and singing along.